Phone:
262-853-3611
18900 W. Good Hope Road
Lannon, WI 53046
Located a 1/2 mile down the gravel road from Good Hope Road.
Google Map
Hours
M-F: 7:00 am to 6:00 pm
Sat: 7:00 am to Noon
Extended hours might be available, give us a call!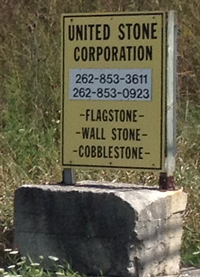 About Us
You will be impressed by the selection of beautiful brown/orange/rust colors on display. Unique products at United Stone are: * 1" to 1-1/2" thick Flagstone * 2" to 2-1/2" thick Flagstone * Cascade weathered edge - plenty in stock and always available! * Orange/rust colored seam-faced weathered edge * Perfectly squared off hand-cut - you have NEVER seen hand-cut like this. * Indiana Stone * Boulders/Niagra Boulders ("Holey" boulders)
Delivery can be arranged.